The Burly Men are old college friends of Johnny, which he uses the term affectionately. They are members of
The Super Gaming Brothers
. The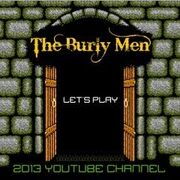 group currently runs their own
YouTube
channel.
The Burly Men's first lets play was of Super Monkey Ball 2 in Jan of 2013. As of now, it has been over a year since the Burly Men's last video.
Ad blocker interference detected!
Wikia is a free-to-use site that makes money from advertising. We have a modified experience for viewers using ad blockers

Wikia is not accessible if you've made further modifications. Remove the custom ad blocker rule(s) and the page will load as expected.