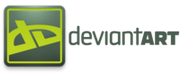 See DA Wiki for more info.
DeviantART (sometimes called DA) is a photo-sharing website by Angelo Sotira, Matthew Stephens and Scott Jarkoff.
SGB Material
Edit
Some pictures from SGB or SGB fans on DA
Edit
When posting pictures from deviantART make sure to give credit to the artist that made the picture.
Ad blocker interference detected!
Wikia is a free-to-use site that makes money from advertising. We have a modified experience for viewers using ad blockers

Wikia is not accessible if you've made further modifications. Remove the custom ad blocker rule(s) and the page will load as expected.