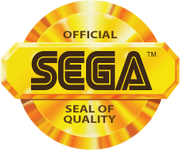 Sega is a former first-party video game developer, but became a third-party developer after the failure of the DreamCast. Sega's current mascot, Sonic the Hedgehog, has crossed numerous paths with SGB, including a couple of months of's and a full fledged Marathon. It is apparent that Johnny favors the speedy hedgehog over Mario. The company was founded in 1940 in Honolulu, USA by David Rosen as a slot machine developer but expanded into a Japanese arcade developer and many of its biggest games in the 1980's and 1990's were arcade games. It became a very successful company and before Sony made the PlayStation, it was the only video game company that managed to successfully compete with Nintendo.
Ad blocker interference detected!
Wikia is a free-to-use site that makes money from advertising. We have a modified experience for viewers using ad blockers

Wikia is not accessible if you've made further modifications. Remove the custom ad blocker rule(s) and the page will load as expected.