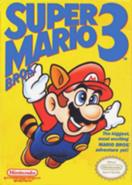 Super Mario Bros. 3
was released in 1988 in Japan and 2 years later in North America and Europe for the NES. It became the second best-selling game for the system.
A movie called, "The Wizard", (That was actually a large trailer for Super Mario Bros. 3) previwed the next installment in the Mario franchise. Johnny loved the game like everyone else, and it was featured as the fourth installment of his Month of Mario.
SomecallmeJohnny
Edit
As an installment of Johnny's Month of Mario, the game was a success in Johnny's eye, and received a 8.5/10.
Ad blocker interference detected!
Wikia is a free-to-use site that makes money from advertising. We have a modified experience for viewers using ad blockers

Wikia is not accessible if you've made further modifications. Remove the custom ad blocker rule(s) and the page will load as expected.